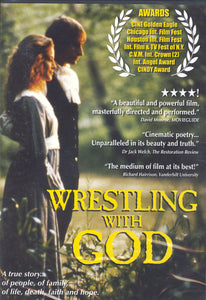 Wrestling with God
Wrestling with God (DVD)
Alexander Campbell immigrated to America as a young man, disillusioned by the hypocrisy of the clerical hierarchy in the Old World. He faced a new country riddled with factious religious zealots of every description, all claiming their own brands of religion as the only acceptable path to righteousness.
Campbell fought to pare away layers of man-made doctrine and rediscover God's truth at its source; Holy Scripture and the elegant simplicity of Christ's teachings.
WRESTLING WITH GOD opens doors to new spiritual journeys. Its compelling message is delivered by asking questions rather than imposing answers.
WRESTLING WITH GOD transcends denominational barriers and cuts to the core of faith.
The award-winning film has been digitally remastered to deliver all the cinematic power critics praised when it was originally released:
"Writer/Director Jerry L. Jackson excels... a seamless flow. Paul Mercier, an actor with a haunting face and a gaze of furious intensity, creates a sterling, dynamic lead. David Ackroyd gives an equally impressive performance, getting full mileage from the wit and vinegar Jackson has poured into his script!"
72 minutes
Subtitles:  English (for hearing impaired), Spanish
Languages:  English, Portuguese (dubbed), English with Arabic open captions