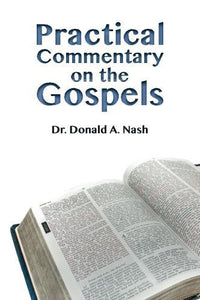 Practical Commentary on the Gospels
Practical Commentary on the Gospels
by Donald Nash
The last project that Dr. Donald Nash, a longtime professor at Kentucky Christian University, worked on was this monumental commentary on the Gospels. He did not live to see it reach publication.
Kevin Yeager was asked by the CRA to take over the editorship of the commentary. He brought in two friends, Arthur Marcum and Marty Dailey. All three had been students of Nash and had great respect for him.
They not only searched the Greek as they combed the manuscript, but they also consulted their college notes to make sure that what was to be printed adequately represented the true beliefs of their beloved professor.
The book is published by and is available through the CRA. Order your copy today!
803 pages
 Click here to access the Kindle version available on Amazon.