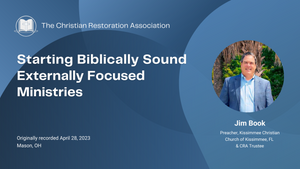 Starting Biblically Sound Externally Focused Ministries (Video)
Starting Biblically Sound Externally Focused Ministries

(VIDEO)
Speaker:  Jim Book

Recorded: April 28, 2023
What does it mean to be a biblically sound, externally focused church? The final words Jesus gave to His disciples before ascending back to heaven were "Go and make disciples."
The question every church must ask themselves is "Are we making disciples or just existing?" A healthy congregation is one in which external evangelism is always taking place through multiple outreach ministries, supported by healthy internally focused ministries geared toward discipling the saved.
The goal of this seminar will be to help congregations put into practice the tools necessary to reach their individual communities. This workshop will help church leaders empower their people to replicate the "Acts Model" for outreach and evangelism. The more outreach ministries we have pointing people to the cross, the more converts we will have for Christ.
Also includes a printable outline.
184 minutes
This video series is made available through the Christian Restoration Association located in Mason, OH. This video is approved for private in-person viewing by individuals, small groups, or congregations but should not be posted or broadcast elsewhere without the prior written consent of the Christian Restoration Association, 7133 Central Parke Blvd., Mason, OH 45040, (513) 229-8000 - thecra@thecra.org.
NOTE:  Immediately upon purchase your confirmation screen will contain two buttons - one to download the PDF notes ("Download Now")  and another ("Video Access") to access and stream this video. In addition, you will receive two confirmation emails with the links to both the notes and the video access. Please save these emails for future access and viewing.