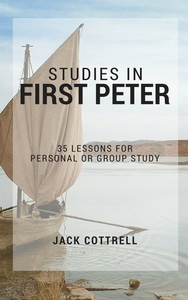 Studies in First Peter
Studies in First Peter: 
35 Lessons for Personal or Group Study
by Dr. Jack Cottrell
In addition to my 49 years of teaching theology at the graduate level at The Cincinnati Bible Seminary (now Cincinnati Christian University), I have spent even more years than that as a preacher and teacher in local churches. I have taught hundreds and hundreds of Bible lessons, mostly for adult Bible classes. Some of my lesson series have been topical; some have been based on Bible books. Here, for the first time, I have decided to present one of the latter series in written form for public consumption.
This book of lessons is not intended to be a scholarly commentary on the text of First Peter. I have not tried to present any details of an introductory or critical nature. I am approaching the text with the assumption that it was written by the Apostle Peter under the inspiration of the Holy Spirit. I have written these lessons with the conviction that everything the Apostle Peter says is true and authoritative, and that it is applicable to the church throughout the ages.
These lessons have been written primarily for the edification of Christians in the local church. I have never presented this material (in this form) in a college or seminary classroom, but I have used it several times in adult Bible classes in churches. I believe the lessons can also be used for personal Bible study and devotions. I have attempted to teach sound doctrine all along the way, but also to apply the teaching to everyday life situations.
Some may be surprised that anyone could distinguish thirty-five distinct lessons from so short a New Testament Bible book (five chapters, 105 verses). It does not surprise me, though. I believe the inspired writings of Scripture are packed solid with truth and wisdom, especially when we examine its individual units (verses, paragraphs) in the constant light of its overall teaching. I have observed that a common method of preaching or teaching through a particular Bible book is to present one sermon or lesson per chapter. To me, that is like walking quickly over a field and picking up a rock here and a flower there. I would rather get down on my hands and knees and look at everything through a magnifying glass—flowers, roots, dirt, insects, anthills, arrowheads, animal traces, and all.
Most of the time my quotations from the Bible are taken from the New American Standard Bible. That will always be the case when no specific translation is identified. I make frequent references to the Greek text, which is always the final authority for my interpretations and conclusions. I am by no means a language expert, but I cannot overemphasize how important—and useful—it is for Bible teachers to have a working knowledge of Hebrew and Greek.
I want to dedicate this volume of lessons to the students of my church Bible classes that have worked through them with me over the years, especially to the members of the Chosen Ones class at the Miamitown (OH) Church of Christ and the Philothean class at the Bright (IN).
330 pages
 Click here to access the Kindle version available on Amazon.